Recognition and appreciation for new and young talents is why JEC Publications organizes & sponsors Attainers Award every year. JEC publication has been in frontline when it comes to uplifting budding writers and recognizing their talent. Here age is merely a number, as poets of any age group & at any stage of their career are celebrated and appreciated. We believe in growing together and our mission is to help writers and other community get acknowledgement for their talent.
And surely, when rewards are presented, it is a big deal for the winners, but those who are not able to make it, may lack confidence in themselves and their art. That is why JEC Publication tries to award every participant by making various categories like BEST WRITERS, BEST ENTREPRENEURS, BEST MULTI-FIELD EXPLORERS, and many more. Apart from this, they get social recognition and feature on the publication page, which helps them develop and reach the masses.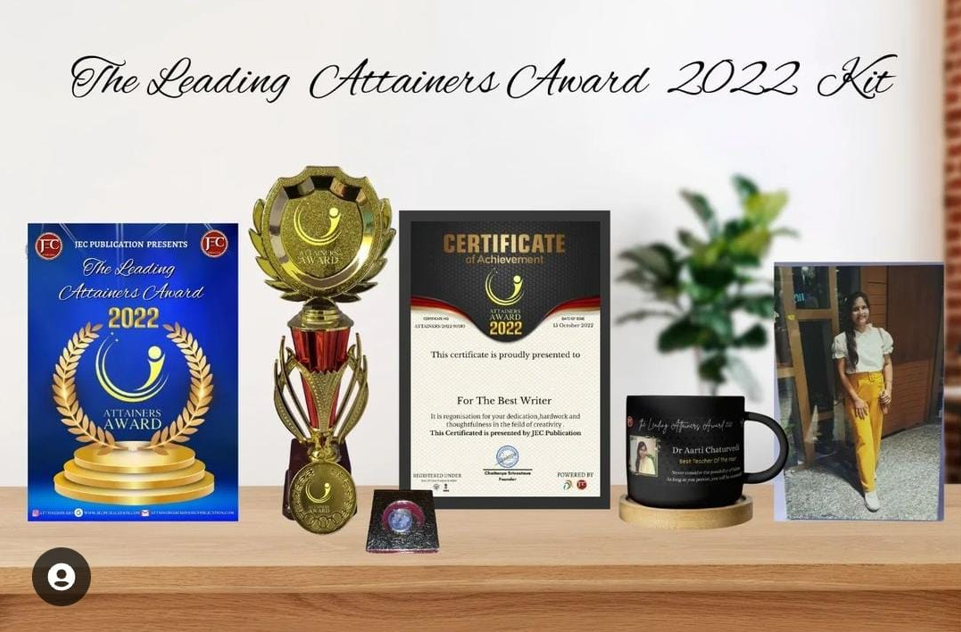 This year Attainers Awards declared the result on 15th December 2022. The winners were rewarded with amazing gift hampers, that included an amazing framed certificate, Sterling silver coin, confidence boosting appreciation letter, and many other rewards to chirrup the winners.
List of Winners of the Attainers Award 2022:
Best Writer of The Year 2022
Divyaneha AS
Dr Suharika Thota
Supriya
Hrishikesh Goswami
Gyaneshwari Vyas
Humera Khatoon
Supriya Csk
Abirami.A
Supriya Srivastava
Sejal Rajesh Punje
"D R Mahato " "Manu"
Sunayana Kayastha
Best Teacher of The Year 2022
Dr. Aarti Chaturvedi
Sumit Goel
Best Budding Writer of The Year 2022
Avinash Basfore
Rahul Goel
Palak Chauhan
Ayush Vora
Radhika Batra
Neha Sarah
Best Author of The Year 2022
Ashwini Kandha Pandiyan
PRIYANKA BHANDARKAR
Best Entrepreneur of The Year
Amitabh Srivastava
Puja Kumari
Shivanjali Singh
Inspiring Women of The Year 2022
Shajathi Banu
Best Artist of The Year 2022
Dr Amritha Ramesh
Best Debut Writer of The Year 2022
Aqsa Shahab
Best Social Media Influencer of The Year 2022
Shweta Sharma
Best Musician of The Year 2022
Preeti Thakur
Best Blogger of The Year 2022
Harshpreet Kaur
Best Social Worker of The Year 2022
Aditya Agrawal
About JEC Publication:
JEC Publications is an initiative by its founder, Chaitanya Srivastava, to uplift and accentuate budding writers and authors and give them their chance to be heard and acknowledged for their art. This is not just a publication house but a family of self-motivated people who are always looking for creative ideas to get your thoughts out in the world, just like the Attainers Award. You can even look up their published books and magazines on Amazon, Kobo books, Google books, and many other sites.
Our publishing platform enables writers to convert their stories and ideas into books that people can hold, read and connect with. JEC Publication is a Writing community registered under the government of India. It will take you with a simplified approach to publishing your books.
JEC Publication started on 19 January 2021 as a provider of high-quality publishing services to authors in India. Today, JEC Publication offers various publishing, book printing, and distribution options to both authors and publishers from around the world.

About Chaitanya Srivastava: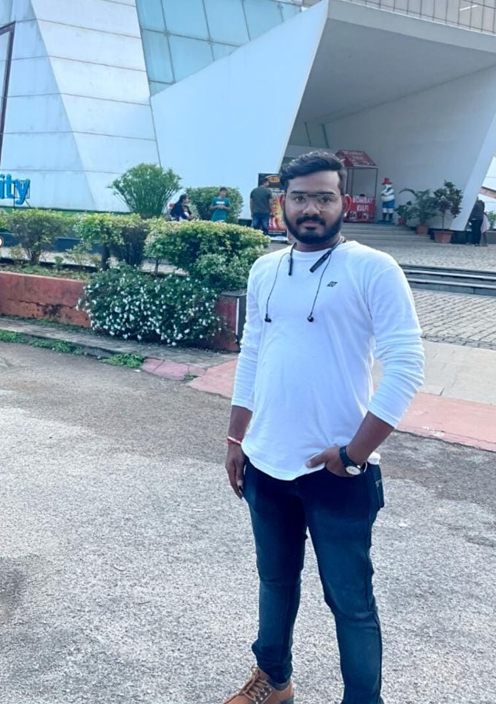 Chaitanya Srivastava is a Merchant Navy officer who lives in the holiest city Varanasi. He is the Founder of The "JEC PUBLICATION" and loves to pen down his feelings, his thoughts on various topics which makes him a writer of one of a kind. He is a devotee of peace and distances himself from any type of chaos. He is a helper and dreams to make the world better place to live in. He has been making people smile through his writing since many years. He also owns a poetry page on Instagram named as " jazbaat_e_chaitanya."


You Can Contact Us On:

Website: http://jecpublication.com/

Instagram: https://www.instagram.com/jec.publication/
Facebook: https://www.facebook.com/jecpublication/
Linked In: https://in.linkedin.com/in/jec-publication-4068b6229?trk=public_profile_browsemap&original_referer=https%3A%2F%2Fwww.google.com%2F
Twitter: https://mobile.twitter.com/jecpublication
Youtube: https://www.youtube.com/channel/UCPL3tf7kJD5-eWOReNScrJQ