If someone is a natural performer who loves the idea of entertaining an audience, then that person may want to consider a career as a professional actor. Attending acting school and earning an acting degree is one way for a talented actor to sharpen his skills and gain credibility in the acting industry.
Bollywood Casting Director Shashank Upadhyay start an initiative at Agra School of drama (Associate with Lalit Parimoo Acting Academy-Mumbai) in Agra, Shashank thought that teaching in the right direction for every aspiring acting student, is very important to develop their acting skills, so that they can serve themselves to the audience and the world of art and drama.

Agra school of drama focuses not only on the mass production of acting clones rather it focuses on giving them the art of Drama, theatre presentation, and the sense and emotion that an artist carries in himself during the time of delivering the script .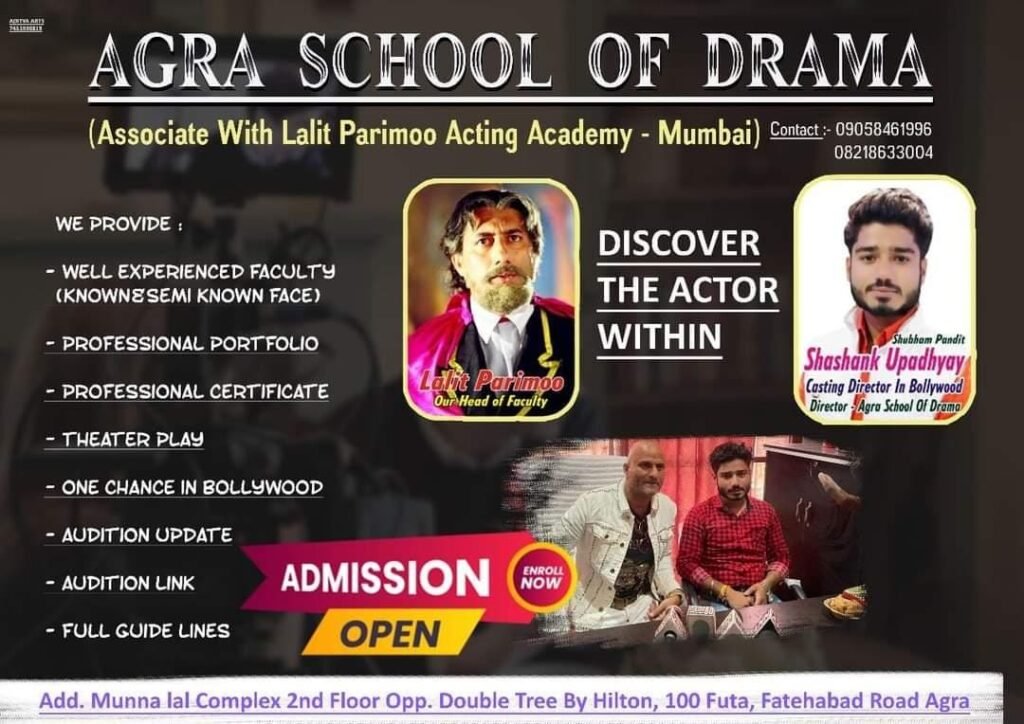 The vision and the plan led by the School team are such, that after the training period selected students can perform a theatrical drama in Agra, and as well as they could be made to travel to different places such as Delhi, Mumbai, etc. Also, the provision of making a portfolio included in the course of the students involved in the walkthrough of the School of drama as there are fake practices or scammers of making fake portfolios in the market and if you try to find true and secure portfolio it is costly, so we are here to help our students to get it through the course. It also provides some contact numbers of some casting directors so that the artist can reach casting directors easily and can give light to their acting career also they claim that all faculties are from Mumbai and they gave 100%, chance once to work in Bollywood if you choose to lead your acting carrier with Agra School Of Drama, Associate with Lalit Parimoo acting academy Mumbai. The institute has good connections with the stars of the industry which in turn would help the students of the institution.

Lalit Parimoo is not an unknown personality he is one the finest actors of Bollywood who played the hand of a memorable character DR.JAKAL in Shaktimaan.
Auditions start for admission in the Agra School Of Drama on the 8th of January (Sunday) At 11:00 A.M for more information visit the website www.agraschoolofdrama.com