Marketing is no longer restricted to social media, boards and banners, schools, colleges or corporate events.
Mr Ayush Kant Sinha has set up a distinct trademark by promoting Puraskaar Foundation at his wedding on December 8th, 2022, in Patna, Bihar.
On this auspicious occasion, Mr Ayush arranged a giant holding to showcase the features of Puraskaar in the wedding arena. Moreover, the guests were welcomed with keychains having the motto of Puraskaar Foundation to raise awareness of the mission. The wedding host presented the organisation's Aim, Initiatives & Mission.
Mr Ayush Kant Sinha along with his wife Ms Amrita
Puraskaar's Founder Mr Gautam Kumar said Marriages are always a social event where people connect and share their views about distinct topics. That's why we thought of promoting Puraskaar in the marriage ceremony of our friend Ayush and his wife, Amrita.
"At the most important event of my life, I decided to accumulate it with something that always remains in my heart, i.e., Puraskaar Foundation," said Mr Ayush Kant Sinha.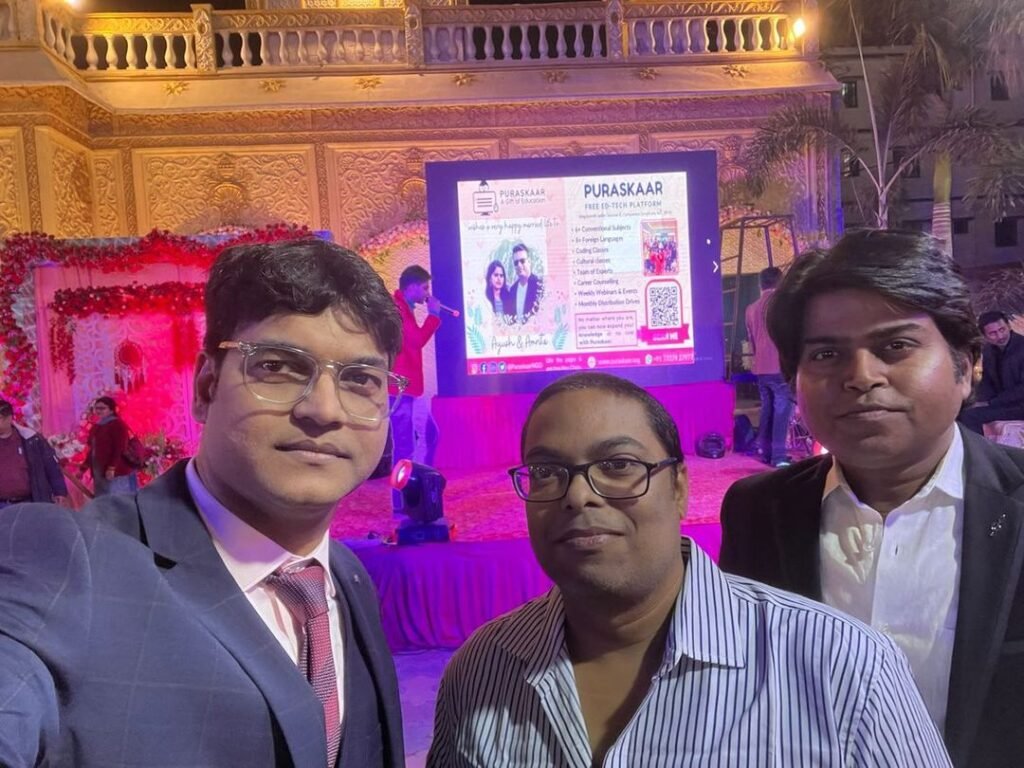 Puraskaar Founder Mr. Gautam Kumar with his friends
Puraskaar Foundation is a Non-Profit Organization, i.e., a Section 8 registered entity under the Companies Corporate Act 2013, that works towards the upliftment of society through free quality education with the belief that with the right support, every child can achieve his or her dreams.
Puraskaar Foundation offers classes in conventional subjects such as Science and Humanities along with skill-based courses (Python, Spoken English), 8 Foreign Languages, and Extra-curricular subjects (Dance, Music, Art).
Along with this, Puraskaar offers regular Yoga classes. The Yoga Trainer Shekhar said that "these days, students face much stress because of the competitive environment. Yoga is an excellent remedy for them. We teach Yoga to children of any age free of cost during 6-7 pm. It is also the best time for me throughout the day. I want to spend quality time with kids. It gives me magnificent energy."
View the video of their Yoga class by Shekhar Yoga Trainer
https://www.instagram.com/reel/Ch4SczAgwgY/?igshid=Nzg3NjI1NGI=
To know more about Puraskaar visit: www.puraskaar.org
To see glimpses of the wedding visit: https://youtu.be/JbwGK-Oe65o